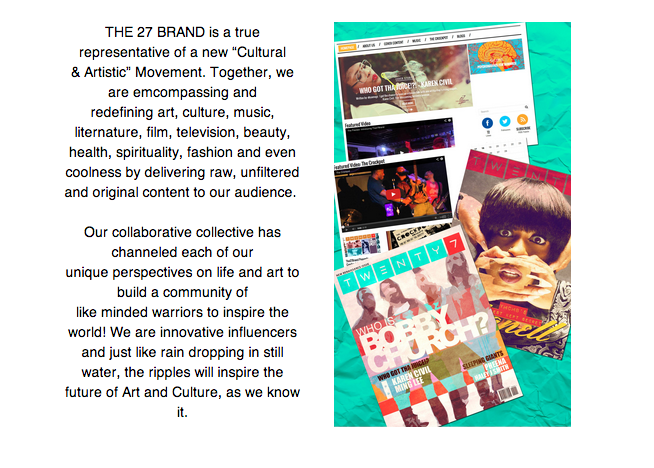 Ok so The 27 Brand is like my brain child. Think of an umbrella company…that will be the foundation for other ventures and movements to spawn from. The 27 brand in my mind is a MOVEMENT…it's a love, peace, and inspiration revolution, and I am building an incredible army!!! The momentum is already starting….the community is already growing.
The27Brand covers marketing, promotions, bookings, and branding for a number of businesses and brands. It is the overall brand that houses Twenty7 Magazine(online publication), Hippie Chik(online store), The Crockpot (a live music experience), Tha Juice Joint (live music/open mic-jam session), The Komposers(live band and producers),and Melanesia (makeup artist).
These are all the projects and brands under the 27 brand umbrella for now… but my 10 year plan for her(The27Brand) is already written out and I'm working on ways to keep bringing these beautiful additions I plan on presenting to the world to life. I truly believe in the power of love, music, and inspiration. And I believe in the power of awareness. I dreamed of creating a platform where we could be free…as creators…as artists…as musicians…as spiritual beings…as friends… and I have done just that. This is the very beginning of something that is soon to take the world by storm!!!
I wont give everything away here on the blog because I want you guys go to the site and become a part of that community as well!!! I'm working really hard on all of these things, and even though I know we will be going against the grain…I DON'T CARE!!! THIS brand is gonna be full of fun and excitement but TALENT, SUBSTANCE, and INSPIRATION will always triumph everything!!!
WWW.THE27BRAND.COM IG: @the27brand
Twitter: @the27brand
#the27brand #thekomposers #thecrockpot #thajuicejoint #twenty7magazine #melanesiahunter #hippiechiklifestyle #melbeat