For years I have been doing these shoots…. started out as semi-implied nudes… way back in 2006-2007…and over the years I have evolved… and you can literally see it in the images… you see my confidence break through in the later years…. you see me go from questioning my comfortability being nude to OWNing it. Each shoot represents a different phase for me… and it's so beautiful to be able to look back and reflect on all of them.
I came up with the wise idea to make myself a coffee table book… a story book… a book that expresses evolution. I've always wanted to share this art…. I mean… I have yearsssss and yearrrrss worth of beautiful images that no one has seen or been able to be inspired by but me and the photographer… and a few close friends lol. I wish everyone could view nudity as fine art…. and a wonderful expression of femininity and power. But… I understand this is a journey… and not everyone will understand.  Anywho.. I'm babbling …For the most part… I'll begin to start sharing some of the stories and internet friendly images from my coffee table book series….
I'll start with my most recent shoot. With phenomenal photographer Damon Loble.
"My last few shoots have been ones with my African waist beads I got from a Leimert Park artwalk a few months ago. And I must say…. I think these things really do make me  feel sexier. …I think I used to have a problem associating sex with guilt…and shame…. so in some kinda crazy twisted way I would be ashamed or uncomfortable looking at myself naked, and feeling or owning "sexy". I don't know if that makes any sense… but like.. Sexy was hard for me… for so long. Like I literally can't recall a time where I had the confidence to seduce a man… or actually try to be seductive or sexy without downplaying it.. being coy.. or being downright goofy. Now don't get me wrong… not being able to own sexy is not the same thing as not feeling beautiful. My challenge has always been to try to figure out why me being sexy… bold and confident… with clothes or without was a struggle for me. I wanted to know why I got all uncomfortable and retarded anytime someone turned a camera on me… especially if other people were present. Why did I crawl into myself at those moments and get so self conscious.. why does trying to make a sexy face in the Iphone camera to get a good selfie make me feel uncomfortable… even if no one is around… and especially if someone is around lol. All these simple things that I was questioning… I wanted to know why I was ashamed of being naked… why wasn't I just comfortable in the nude… even if no one was present… I wanted to know why I wasn't comfortable enough with my body or the thought of being nude to be able to create my own art the way I admire the fine arts of Nudes that I've been inspired by. They have always been so beautiful to me…especially the good ones… and I'm so inspired by the art that I have recently created with Damon… some of these images move me in such a way… bc I can look at them now and tell where I was… how I was feeling…and what I was thinking… and when I look through this shoot… I realize that more layers have been shed…and I'm in love with the confidence and security I hold within…. I felt like African royalty….there was nothing not to embrace…and definitely not anything to be ashamed of. Be sure to keep checking in to my Naked vs Nude blogs on here to see Art and nudes that I'm inspired by… as well as work and interviews by models and photographers who are all down for the #FreetheNipple movement! lol
Ok I guess I've talked your heads off enough! Just know that this last shoot is me being fully comfortable and owning my femininity … I felt like royalty when I was taking these pictures…and I think Damon definitely felt like he was shooting a queen because that's exactly what the pictures came out looking like. I even love that some of these have my imperfections showing and some highlighted…I've never looked at the things I thought I would want to perfect in such a manner of appreciation. The edits are never overbearing… It really is a beautiful representation of this one quote I've been running in the ground…. " I've been sleeping on myself… but Im up now."
All of my jewelry can be found on www.HippieChik.com … most of if not all of it is handmade pieces by me. My hair was a random…yet resourceful way for me to braid it up before I went on a cruise to the Bahamas with my mom and sisters lol! I grabbed all of my scrap and leftover braiding hair from years ago… you know those bags buried in the closets and storage spaces lol. But I loved how it turned out… and now I'm sure I'll be out purposely grabbing all sorts of colors and textures of marley and braiding hair to make another random masterpiece of a hairstyle lol!  I really want people to be able to get the essence of #hippiechiklifestyle and what the whole brand embodies… it really is something that all women can embrace and relate to… I just have to do my part in getting this art, this fashion, these ideas, and this message out of my head and into the world! So I have to come out of hiding so to speak… it's like those who know me… know that I'm a Sleeping Giant… but it's definitely time for me to stop fucking around and let the cat out of the bag!
– @Melanesia_  / @Hippiechiklifestyle
Thank you Damon…  you are my muse and I will forever be inspired by your work. I hope to create much more art with you over the years. Your eye is unmatched… you are the shit indeed my friend!
IG: @damonloble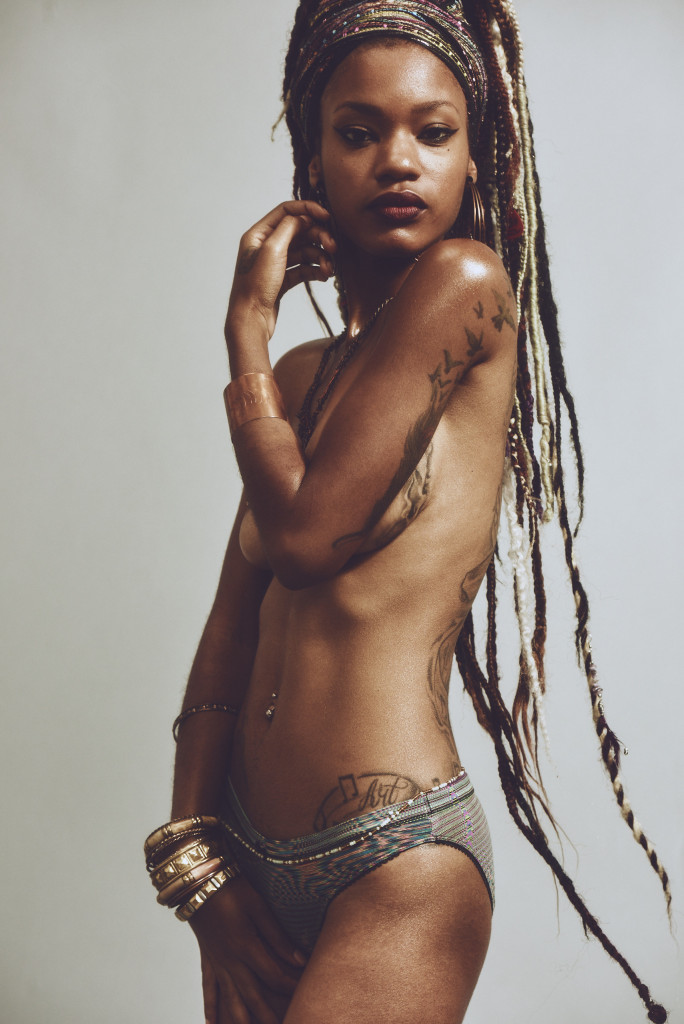 Photos by @DamonLoble
#Muse @Melanesia_
Hair, make up, and jewelry by yours truly… #Hippiechiklifestyle #makeupactivist #shophippiechik
Boho jewelry and other cool accessories found on www.hippiechik.com